In our quest for differentiation and value, the Institute has been practicing certain ideals about which the All India Council for Technical Education writes: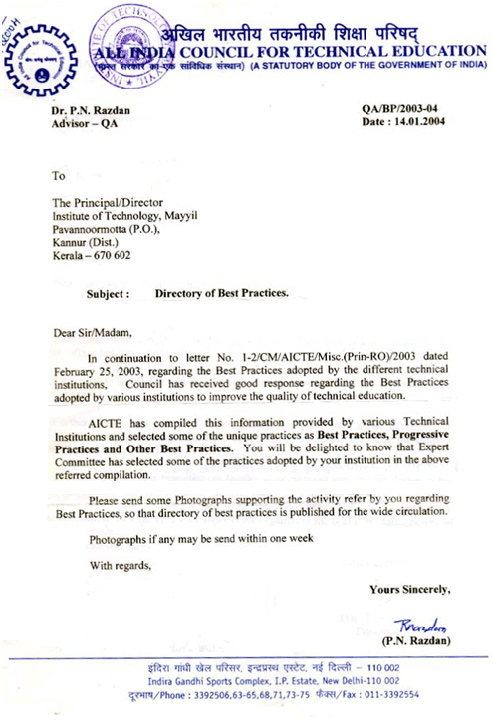 Our former Chairman Sri.MPA Rahim & Sri. K.T.Sharafuddin was awarded "Indira Gandhi Sadbhavana Award" by - National Integration & Economic Council, New Delhi for his outstanding Social works especially on development of education in rural areas. The above award was received on 20th November 2008 at New Delhi and presented by Rajya Sabha Deputy Chairman Sri. Rahman Khan in the presence of former Chief Election Commissioner Sri. G.V.G.Krishnamurthi and other State Governors.
Our Director Dr. P. Narayanan has been awarded "Global Achievers Award 2013" – by Economic Development Forum, New Delhi for his outstanding achievements on Education Leadership. The above th award was received on 11 April 2013 at New Delhi and presented by Justice M.S. Ahammed Siddique, Chairman National Commission for Minority Educational Institutions, Govt. of India in the presence of Kiran Bedi IPS, Joginder Singh former CBI Director, and other officials.
He has been honoured with two more awards i.e. a) Maulana Azad Puraskar for educational upliftment from All India National unity conference, New Delhi and b). Hindi Ratan Award 2013 for his outstanding services achievements and contributions for keeping the "Flag of India high" from NRI welfare society of India, New Delhi.