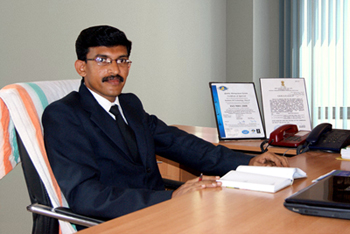 Mr. Muneer K K
( M.Com, MPhil, B.Ed ,NET, JRF ) Chairman, ITM Group of Institutions.
Institute of Technology Mayyil is the foremost B-School in North Kerala with the state of art infrastructural facilities. The Institute is recognised by Govt of Kerala, approved by AICTE & affiliated to Kannur University. Since its inception in 2002, it has acquired name and fame among the leading B-Schools in Kerala, due to constant and continuous efforts of the management, staff & students. The promoter of ITM, the Hira Charitable Trust is a voluntary non-profit organisation aims to infuse quality higher education especially among the weak & the marginalised. With this vision, the Trust has been organising several activities for the benefit of students and the society at large. The Trust aims to take this Institution as one of the best B-Schools in Kerala particularly in the areas of management education, research and consultancy. We need to expand further, and we are confident that with the liberal attitude of the Trust members it is possible to concretise our dreams. On the eve of celebrating a decadel growth of this institute, I remember with thanks the unstaint services extended by the former chairman, Sri. M.P.A. Rahim and Sri. K.T. Sharafuddin.
Other Institutions fabricate managers, whereas we, in our institution mould managers to suit to the requirements of the global market, at the same time upholding all the values of business. Focusing on this we plan to introduce Management Development Programmes (MDPs) and Executive Development Programme (EDP) As education is a social process and backbone of social system, we constantly polish young minds to be manager for better society and better nation building. I have the confidence that young MBA aspirants would enjoy our campus in all respects. A testimony to this fact is that our Alumni have been working in various corporate organisations in the middle and upper level managerial capacities. While wishing you all the success in the academic life. I hope that the next two years in the campus would be a parade ground to bring out the best of what is in you. with warm regards.